Thank you for choosing
Grove Wood Primary
for your child!
On behalf of the staff, governors, children and parents/carers, it gives me great pleasure to welcome you and your family to our school community.
We hope that the information on this page will answer some of the questions that you have about your child starting school with us in September. I assure you that we will write to you in the coming weeks with further information about the school and details about your child's induction.
Please click here to read our welcome letter for parents and carers. letter to new parents
Transition from Pre-Schools and Nurseries.
We will be talking to pre-school and nursery settings, as we always do, to find out where your child is in their learning.
We will also be talking to you directly to find out about your child's preferences; things they particularly enjoy, find difficult etc. These conversations usually take place within the context of a stay and play visit to school in July or a home visit in early September, however if this is not possible, due to the current situation, we will think creatively to ensure that we receive all of the information that we need about your child.
We have set out some useful tips to support your child's transition in 'Starting School', so you can help to prepare your child for starting at Grove Wood Primary School.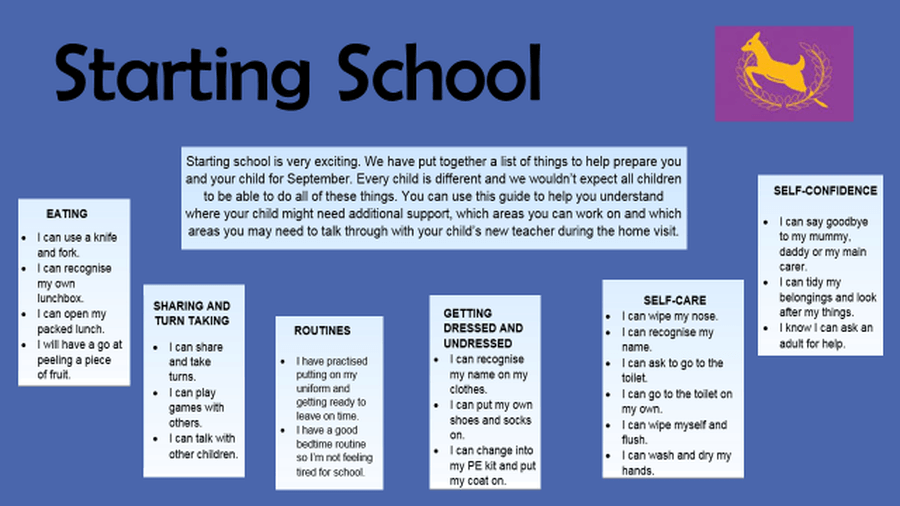 Starting Primary School - The BBC have put together some articles, videos and resources to support you and your child with starting primary school.
Planning for transition when schools are currently closed - A useful article with some tips to support your child's transition from nursery or preschool to Reception
Learning in Reception.
The Early Years is all about your child learning through play. Your child will spend most of their day in school accessing the continuous provision and following their own interests both indoors and outdoors. The areas within the classroom will be set up by adults who have taken into account your child's interests and next steps. The children will access these areas with support and guidance from teaching staff.
During the day, your child will take part in some short adult led activities to help them develop their learning in both prime and specific areas as well as their characteristics of learning. Although adult led, these will be fun and engaging sessions, planned with the children's interests and needs in mind. The children also have the opportunity to engage in self-led child-initiated activities, again, allowing the children to engage in all aspects of the Early Years Foundation Stage Curriculum.
Click on the link below to view the parent/carer's guide to the EYFS. This document directly links to the document used at school when observing and planning activities to support your child. The document is based around age bands. We would initially be working with age bands 30-50 months and 40-60 months in Reception.
EYFS goals for parents/carers: eyfs-goals-for-parents.pdf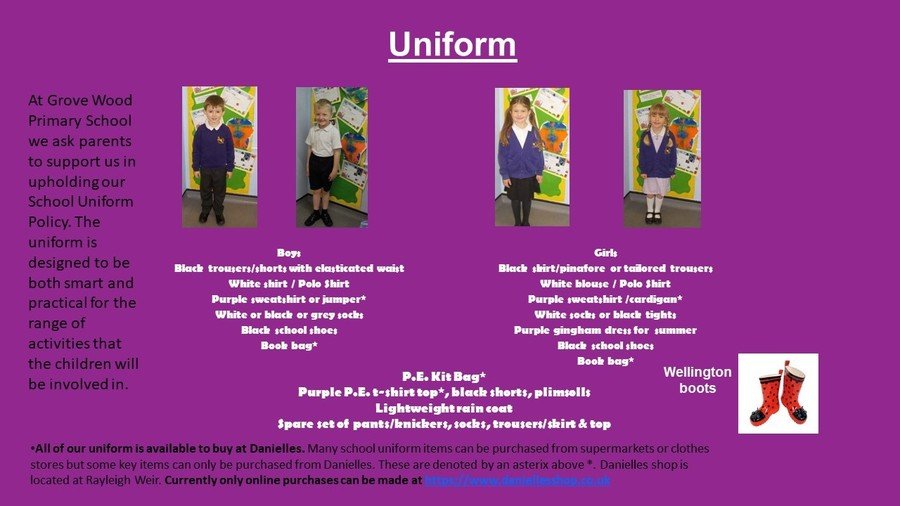 Update for new intake parents and carers. You should have received a copy by email of the Welcome booklet for this year. We hope you find this information about school life at Grove Wood Primary School helpful. If you have any questions at this time please email admin@grovewood.essex.sch.uk and Mrs Hooper or Mrs Buckle will respond.
Update for parents - July 2020
This month you should have received some further information about your child starting at school. This information included a welcome letter from your child's class teacher;
A Meet the Early Years Team document;
.
A letter confirming transition arrangements for your child to start school in the Autumn. Here is a snapshot of some of the key dates shared in the letter;
You will have also received a welcome telephone call from your child's class teacher. We would like to take this opportunity to wish you a lovely summer holiday and we are looking forward to welcoming your child to school in September.