Year 5/6 District Dodgeball Tournament - 15th November 2016
On 15th November 2016 Mr Banks took our Dodgeball team to the district dodgeball competition at the Deanes School. During the pool stages we managed to win all our games and progressed to the semi-final where we met Thundersley School. The children were at the top of their game and did not drop a single set! This meant a repeat of last years' final Grove Wood vs Glebe! Glebe were tough and we lost the first set, but Grove Wood came back strong winning the next two sets, which meant they finished in first place and now move on to to the County Finals—Brilliant!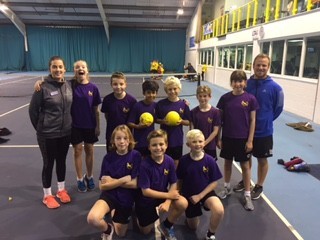 Year 5/6 District Dodgeball Tournament
Tuesday 3rd November 2015
Mr Benson took our Dodgeball team to Deanes to compete in the district champions. The schools were split into two pools where we were pitched against Glebe, Holt Farm, Wyburns and Thundersley.
During the pool stages, we managed to win two games (Thundersley and Wyburns) and lost two against Holt Farm and Glebe. However we managed to come second in our pool which sent us through to play the winners of the opposite pool, Robert Drake, in the semi finals. The children had to be at the top of their game and they were, as we won the semi final to renew our rivalry with Glebe in the final who had beaten us already.
During the final, the children fought heroically, however we lost and finished a very credible 2nd place!
Throughput the day, the children showed perfect sportsmanship and support of each other and finishing 2nd in a competition which included such strong teams is an incredible achievement. Well Done everyone!
Year 5/6 County Dodgeball Tournament
Friday 8th January 2016
Venue: Harlow Sports Centre
Grove Dodge ball team took part in the County Finals at Garons Sports centre. It was an afternoon of fun and the team competed to the best of their abilities, showing good sportsmanship and determination to always strive for the best result.
The schools were divided into three groups of five, of which the team lost three and won one. Unfortunately, Grove finished third in their group and didn't progress to the next round.
Children involved: Joe C, Jack C, Jessyka T, Josh A, Harrison M, Ryan H, Hope R, Kiera T, Zak S and Rowan S.